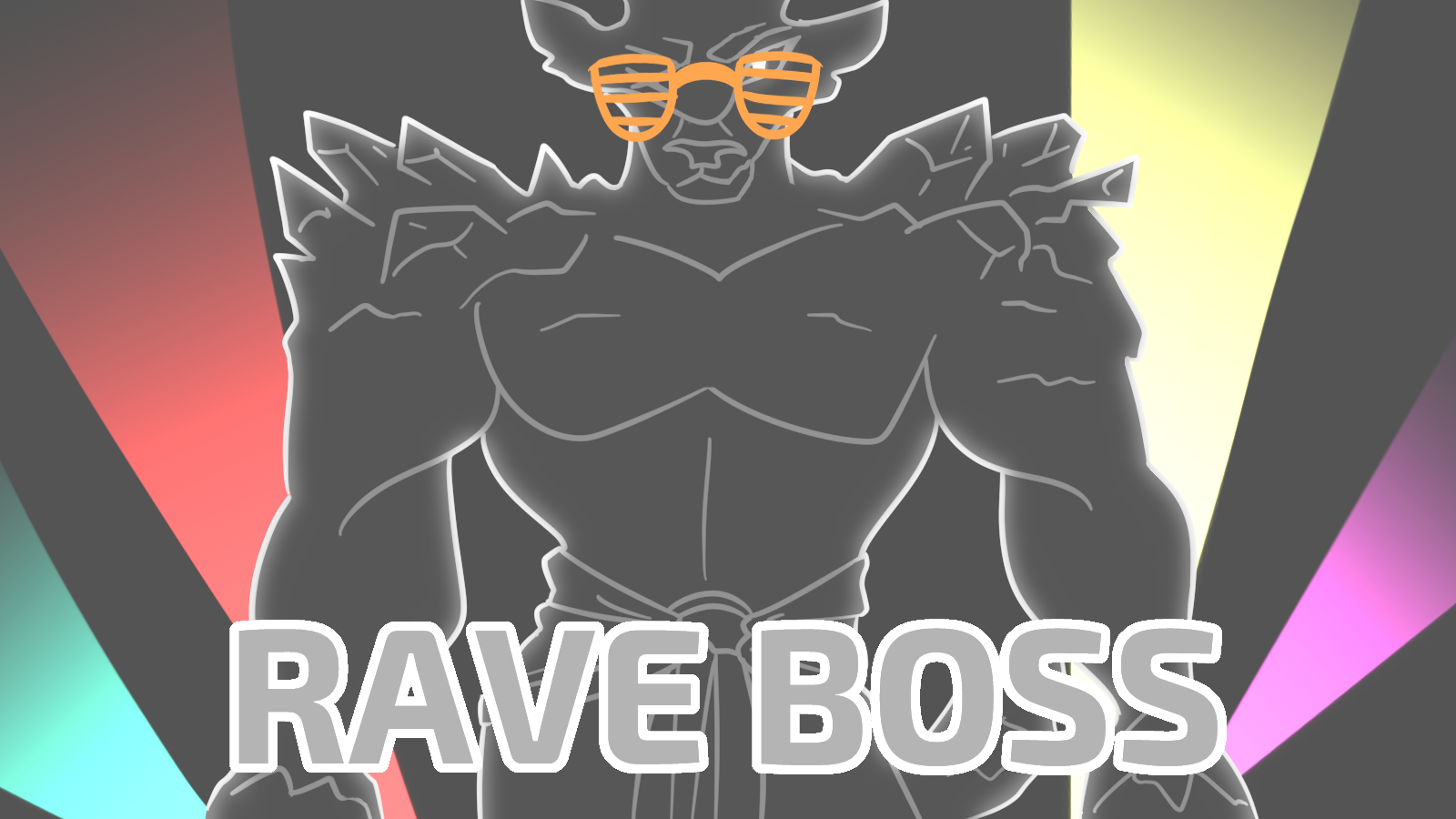 RAVE BOSS
Rave Boss gets a (JUICY) update!
---
RAVE BOSS GETS ITS FIRST (AND MASSIVE) UPDATE!!!
Hey y'all. Brad here from Juice Squad Games. The team has been HARD at work polishing "RAVE BOSS" and we would like to share some information about the latest update.

The basic gameplay loop and idea remains the same- you play as an MMO boss who is tired of being defeated over and over again and would rather be an EDM musician. Defeat waves of "players" and see how long you can survive! But what has greatly changed are new additions and a much higher level of polish that make the game much more enjoyable.
NEW MAIN STUFF!!!!
RAVE MODE:
Without a doubt, the biggest change we've added is an exciting rework of the Ultimate 'R' ability, Overdrive. Going into Rave Mode now gets you PUMPED UP. Your movespeed is highly increased, your attacks are faster, and your SUPER PONCH is a one-hit KO. Enemies will FLYYYYY back when being hit and smack walls. It's really fun. This super powerful mode is temporary so be sure to use it strategically.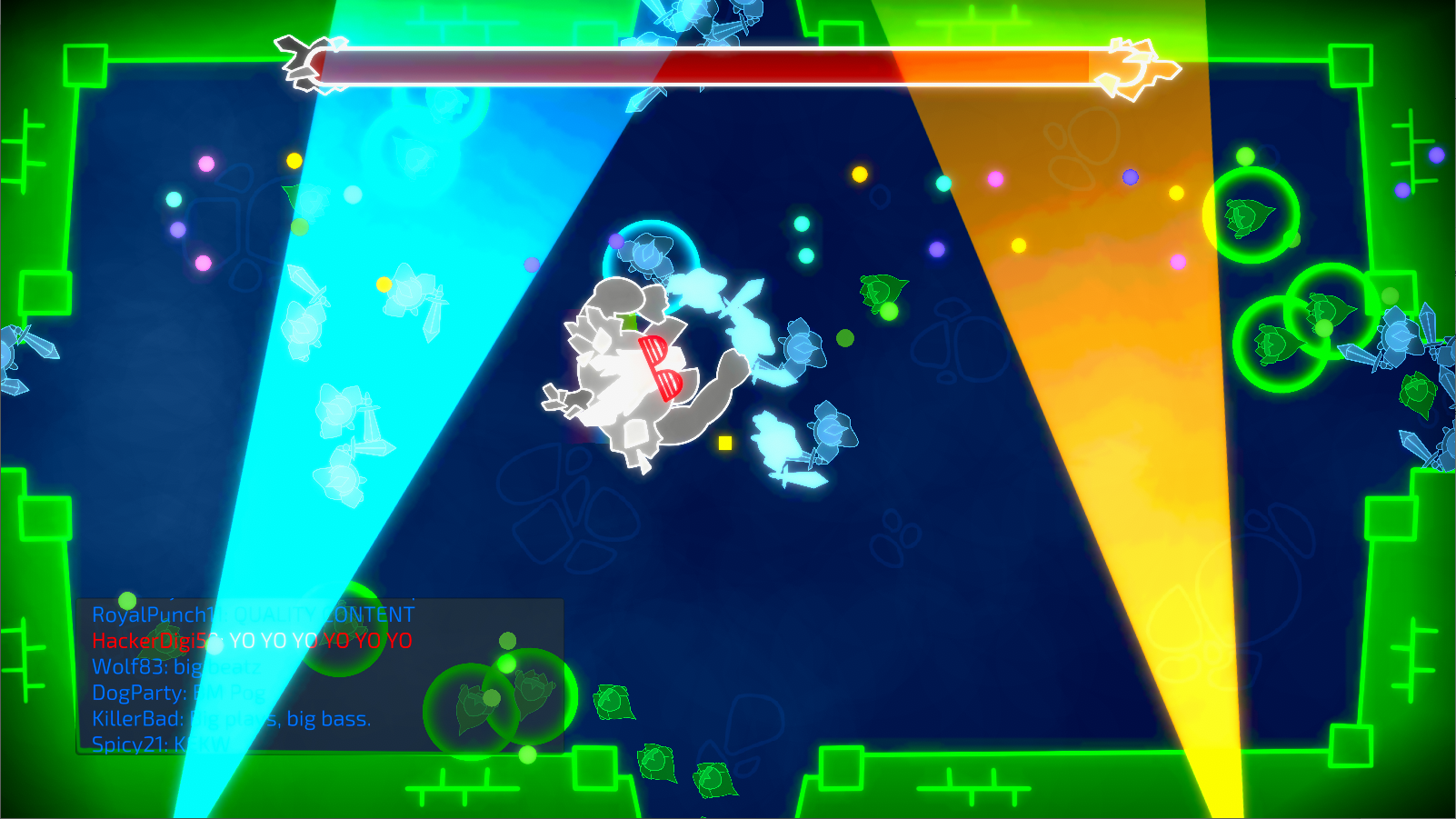 HEALERS:
Healers were an idea since the very beginning. This new "player"/enemy type cast shields for allies. Shields can absorb 1 attack no matter the attack's damage. Healers don't like being in the main brawl of the battle so you'll find them hanging out on the sides and helping their teammates from a distance.
CHAT BOX:
Since you're battling "players" it only makes sense for them to act more like real players by raging at each other in the chat when they are defeated. In RAVE MODE the chat box gets HYPE and much more meme-y. We hope you enjoy making players very very upset!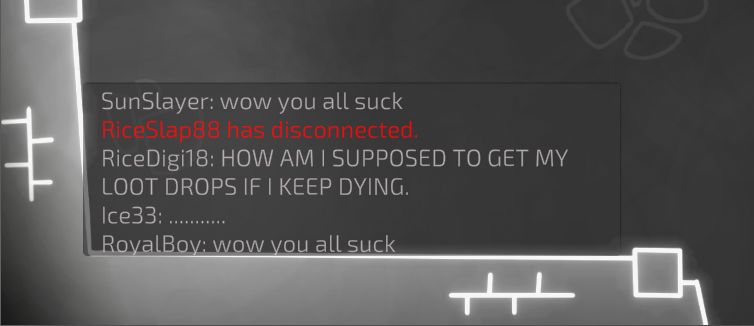 VOICE OVER:
The RAVE BOSS now has different voice lines to say in between rounds! It's awesome. We hope you enjoy the funny quips you'll hear when playing the game. :D
A WHOLE BUNCH OF NEW PARTICLE EFFECTS:
Seriously. It's starting to get real fancy.

QUALITY OF LIFE CHANGES
A lot has changed in regards to new menus! We have a much cooler main menu as well as a settings menu to adjust volume. We've also added a pause menu to the game! We fixed the WAVE/SPAWN SYSTEM as well as added the magic of AUDIO DUCKING. (haha) Other than that the colors are brighter, there is post processing. The game looks SO MUCH BETTER.
BUG FIXES
We adjusted some of the "game jam crazy crunch" code to make it perform better overall. But mainly we fixed a bug that would occur when y'all would attempt to E over the wall. I felt really silly when a play-tester, Chad, "broke the game" in less than 3 mins. What a Chad. Please reach out if you find any more cool bugs!
THANK YOU SO MUCH EVERYONE! WE REALLY HOPE YOU ENJOY THESE (JUICY) CHANGES!!!